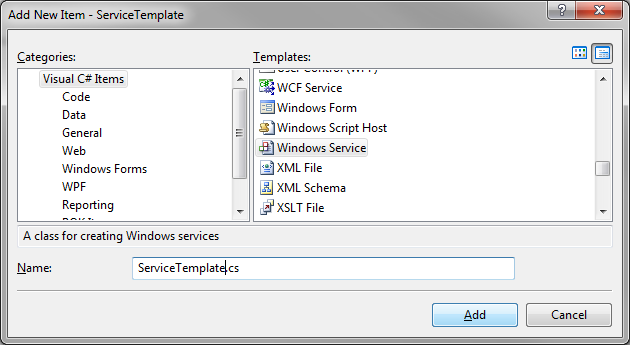 Windows service is a computer program that operates in the background. Programmers are widely using service like approach for the programs that needs to be run during the entire active time of computer but require a less user interaction.
Visual studio provides a template for the developers to implement these kinds of applications.
According to myself, one of the main challenge of the windows service application is debugging. Of cause you cant run the service application as it is, without installing it as a windows service or change it to a console application.
We have two approaches to debug windows services. As the first one to identify the problems in actual working environment we can create a log file foe the windows service. Personally i prefer separate log file like text file for the purpose.We can implement a simple method to the log every important steps of service in to this file. Sample class that i used to log activities can shown below
But if you need to write the logs to Application log or event log you can do it as follow which shows in
MSDN
.
But this will cost you a lot on behalf of time, because its still hard to figure our where the exact error location is. So we need to find a way that we can debug the application line by line as i explain below as the second approach.
In this approach, first we need to convert our application into console application.For that we can simply right click on the project and go to the "properties window". At that window, under the "Application tab" we can select the Output type as "Console application".
Then you need to add a new method that initiate your program, in to the service. For that you need to select the [yourserviceName].cs file and go to the code view by double click it.
Generally we can see two methods and one constructor in auto generated template of service.cs file. OnStart() method is the place that commits the service operations where OnStop() stops them. When we started the windows service, it triggers the OnStart() method and keeps it up and ruining until we call the OnStop() method. So that, in here, our idea is to call OnStart() but terminate it without hanging.
To do that we can add a new method like follow
Code:

As you see here this method starts the operations and give you the desired output. After you click any key it triers the OnStop() methord to stop activities
Next thing you need to do is change the main method of the application. Normally main method of a windows service looks like follow
Code:

but here we need to change this method as follow.
Code:

Now you can run the service as a normal console application. But make sure that to replace main method before you deploy the application as service.